Best Road Trip Travel Accessories for
2020
The COVID-19 pandemic has changed the travel industry landscape. As a result, travelers will be venturing out on more road trips this summer and fall. In this guide, you will find the best road trip travel accessories for 2020.
Road Trip Warriors
If you have ever taken a road trip, you know that wrong turns are bound to happen. There is always the chance it will not go exactly to plan (it almost certainly will not). That is part of the adventure. 
When planning a road trip, it's not just about getting to your destination. Everything in between becomes important. You must factor in entertainment, comfort, and safety on the road for all your passengers. 
In this post, I'm going to share how to seriously improve your experience on the road with the best road trip travel accessories for 2020. 
Let me know in the comments if there are any must-have items I missed or join me on my Facebook page to continue the discussion. 
42 Best Road Trip Travel Accessories for 2020
There are countless road trip travel accessories out there. Some are great, but others are really just a waste of space and money. Luckily, I've spent hundreds of hours on some of the most demanding roads around the world testing road trip travel accessories for you.
There are several variations in the type of road trip you may be taking, from out of state, to across the country, or crossing international borders. Different variations require different road trip travel accessories. The longer the journey, the more important these travel accessories will be to you. 
No matter what you are planning for your next road trip, this comprehensive guide has you covered for the best road trip travel accessories. 
Use the contents tab to skip ahead. Each item is clickable, which will open a new window for you to purchase that product. 
Let's get started!
Useful Road Trip Gadgets
Portable Battery Packs or Power Banks
Portable battery packs or power banks are not just useful on the road, they are a must for just about any form of travel. 
Keeping your devices charged and ready to go is very important. Specifically, smartphones, laptops, and camera gear which you will be using at every phase of your road trip. 
I travel with multiple portable battery packs and they have seen plenty of abuse over the years. Everything from being dropped repeatedly to functioning multiple days outside in subfreezing temperatures. 
For multiple days on the road, you will need a high capacity power bank that is both versatile and rugged, with multiple USB outlets like the Anker PowerCore 20100mAh.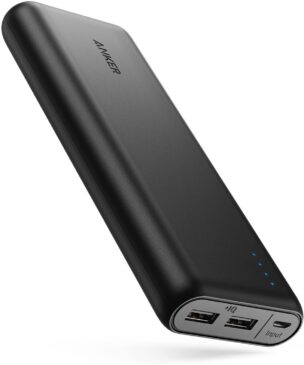 It's both lightweight and can charge an iPhone up to 7 times, an iPad up to 4 times, and the Galaxy up to 5 times very quickly. They also come with an 18-month warranty. For the money, this is one heck of a deal.
Not every day on the road will be dry and if you plan to do some camping along the way, I would suggest going for a waterproof and more rugged model. 
For a road trip where you could be getting wet on various detours, such as kayaking or hiking around waterfalls, bring the Luxtude 20000mAh Waterproof Portable Charger. It's great for camping because it also has a built-in LED light.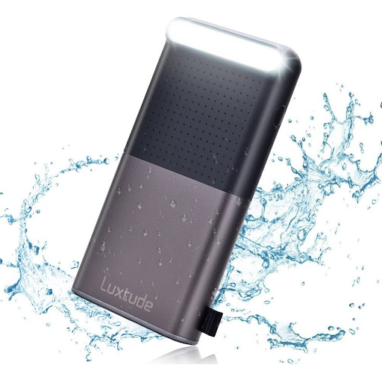 This is a very durable portable battery pack that can double as a flashlight. For only $36 (at the time of writing this post), this is a steal in my book.
Smartphone Dash Mount
This is another essential road trip travel accessory that will just make life easier. 
I use a smartphone dash mount every day for easy access to the Waze App, Google Maps, and quickly being able to check notifications or skip songs while not having to take my eyes off the road. 
There are a few features that make a great smartphone dash mount. They need to mount to the dash or windshield, be able to quickly adjust and be magnetic.
I'm not a fan of anything obstructing my field of view on the road so I prefer dash mounting my phone and keeping it low. I also want the mount to quickly be able to adjust so my co-pilot can navigate apps along the way. The magnetic mount is so you can quickly mount your phone either vertical or horizontal without fumbling with any cheap clips.
For the smartphone dash mount, I highly recommend using the magnetic AUKEY Car Phone Mount 360.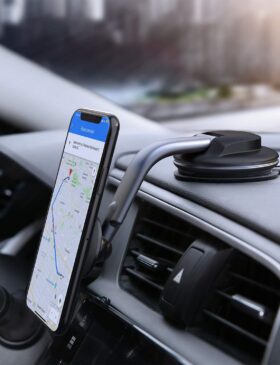 This mount has been an absolute lifesaver for me and I use it every day. The low profile design is aesthetically pleasing, which is important and does not block your view of the road.
Dashcam
I put a huge emphasis on safety while planning my road trips. One of the best road trip travel accessories for enhancing the safety of both you and your passengers is the dashcam. 
In addition to providing you with some memorable video and selfies of your road trip, they are often a deciding factor for you in the event of a traffic accident or traffic stop. 
Dashcams are becoming more commonplace as a deterrent to would-be scammers who fake traffic accidents. My favorite dashcam is the VAVA Dash Cam because of its connectivity features and low-profile design.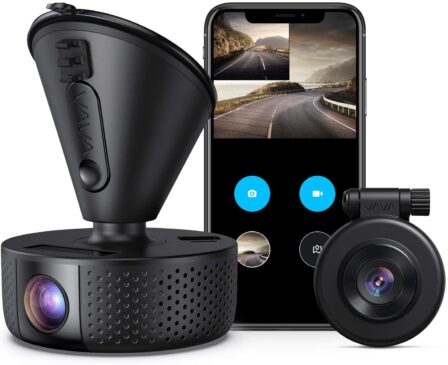 This dashcam has a fully functional smartphone app with live preview, instant download, social sharing, GPS tracking, and more. It has a 155° lens that captures video at 1920X1080P at 60fps and has night vision. Again, for the price and added safety, this is a must.
Power Inverter
Road trips are just more fun when you stay connected and have access to some of the amenities of home while on the road. To stay connected and bring along those amenities, you need power. 
The power inverter is a road trip travel accessory that goes hand in hand with your portable battery packs and powers your more demanding electronics such as laptops. 
It will also allow you to recharge the portable battery packs quicker. Power inverters can also power water boilers, juicers, coffee machines, or hairdryers while you are camping. 
My choice for a power inverter that is great for road trips is the BESTEK 500W Power Inverter DC 12V to 110V. This model can easily mount under the seat, has an additional 2 USB ports, with an option to alligator clamp it to your battery for the max 500 watts of power.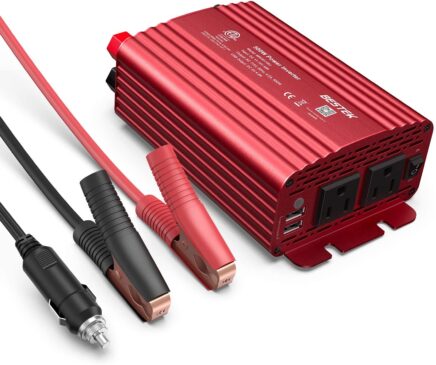 Again, this travel accessory is under $40 and comes standard with an 18-month warranty. I've used these for not just road trips or camping but also tailgating to power the TV. 
Car Humidifier
This may sound over the top but let me tell you, this is one of those road trip travel accessories that are underrated and will improve your quality of life in dry climates and high altitudes. 
Climate and altitude changes will quickly dry your nose out to the point that it feels like it will bleed. This is something I complained about to a truck driver and was shocked when he told me how to prevent it. 
I didn't know portable car humidifiers even existed but they have changed the way I prepare for road trips. This is a very cheap fix that will help you feel more comfortable in the car and sleep better in your motel rooms or tents. 
For a portable car humidifier, I recommend the Epoch Making USB Car Humidifier because it's affordable, quiet, fits in a cup holder, and extends your USB power port.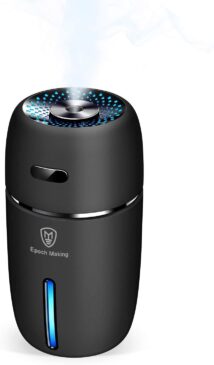 For less than $20, you will significantly improve the air quality in your car and sleep better at night. That is a win in my book.
Air Purifier
While we are on the subject of improving air quality in your car, let's talk about air purification. 
On long road trips, the car will start to smell. This is from the inevitable eating and snacking in the car, getting into the car with sweaty and muddy clothes, etc. 
I recommend the Airtheral Air Purifier, which will eliminate up to 99% of harmful bacteria, save your allergies from flaring up, and will actively show you on a sensor the air quality in the vehicle.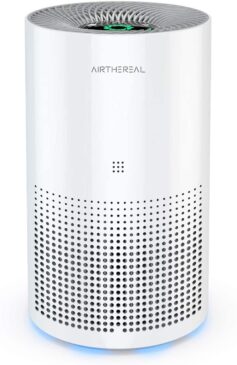 As you can tell, I'm all about improving quality of life, and using an air purifier on a road trip will do just that. The more people you have in a vehicle, the more important this becomes.  The Airtheral Air Purifier is the perfect size for a vehicle and works great. 
Active Noise Cancelling Headphones
I do NOT travel without my noise-canceling headphones. As a passenger, this travel accessory is a must-have for riding in a car or flying in a plane. 
Over time, the noise from the road, on the train, or while flying can leave you feeling exhausted and disoriented when you leave the vehicle. Now, you can completely cancel out the noise to relax, read or listen to music in peace.
Noise-canceling headphones used to be a very expensive luxury item. However, now you can pick up quality noise-canceling headphones for a decent price point. 
I recommend the Anker Soundcore Life Q20 Hybrid Active Noise Canceling Headphones.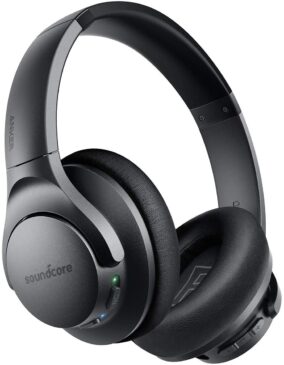 My wife gave me these for my birthday. It was truly a life-changer because we travel so often. 
Portable Wifi Hotspot
This recommendation may be somewhat controversial, especially if you have kids, because sometimes leaving the house on a road trip is about losing that connected feeling to the world. 
However, in this day in age, I really couldn't get by as reputable without suggesting a great portable wifi hotspot unit for your travels. 
The reason I stay connected while traveling is to backup photos and videos on cloud servers, to prevent loss in the event my gear is damaged or stolen, and to write/upload blog posts. But, it could be as simple as keeping the kids entertained in the backseat. 
Whatever the reason, I recommend the MightyWifi Worldwide High-Speed Hotspot. It works in over 150 countries with fully customizable and affordable data plans. It also has an app for your smartphone to keep track of data usage and instant recharges.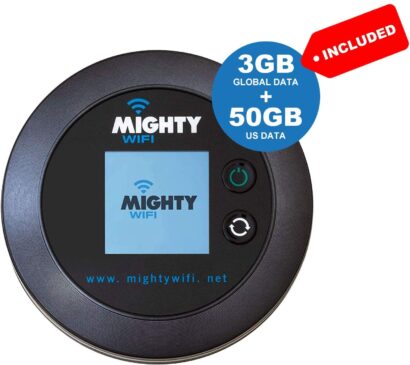 This is very useful on my road trips throughout the United States. It was a lifesaver in Iceland and mainland Europe. Data packages pretty much run from $1 per GB in the United States to $3 per GB in Japan.
Digital Tire Pressure Gauge
You don't necessarily need to go digital for this road trip travel accessory, but I recommend having a good tire pressure gauge for vehicle check-ups when you stop for gas.  
When you are on the road, especially when traveling between remote areas, it's important to monitor tire pressure for signs of slow leaks and to make sure the tires stay balanced. The last thing you want is to be stranded due to a flat tire or blowout. 
Because I'm all about that stress-free travel life, I always keep the PROREADY Digital Tire Pressure Gauge in the car and perform routine checkups.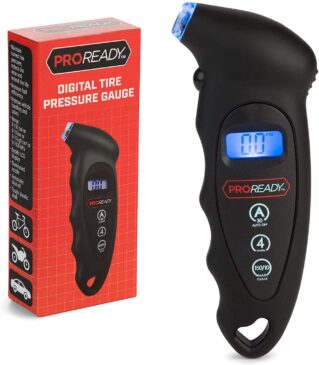 If you value safety and peace of mind as much as I do, this is one of those obvious must-have road trip travel accessories. 
Two-Way Radios
The ability to maintain quick communication with your road trip crew is not only important for safety reasons, but it can also be fun. 
You will be taking various outdoor detours, some of which will require the crew to split up, and not everyone will have a smartphone. Smartphones are also only as good as the service available.
Two-way radios provide an instant way to communicate without phone service to other members of your crew. And, this is why I believe it's undervalued as a road trip travel accessory. 
I recommend a pair of Midland X-Talker two-way radios. These have 36 channels and have up to 38 miles in range. You can also perform NOAA Weather Scans.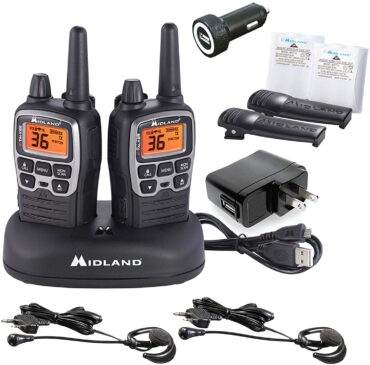 Honorable Mention
Are dash mount GPS units dead? As far as I'm concerned, RIP dash mount GPS units.
I actually don't recommend the standalone dash-mounted GPS unit anymore. Why? 
Many vehicles today come equipped with built-in GPS.

It's not necessary if you plan ahead. 

I don't want anything else on my dash. 
Now don't get me wrong, they can be useful. And, they have had a bit of a resurgence lately with some cool features. 
If your road trip is going to take you off the beaten path, where service may be limited, they can actually be really handy to have. But, all of that can be mitigated by downloading Google Maps for offline mode. 
Caution: There are places in the world where even Google Maps will not work, such as South Korea for instance. However, I doubt any of you are doing your first big road trip in South Korea.
With all that being said, if you are dead set on getting a standalone GPS unit, I have a recommendation for you. Go for the Garmin DriveSmart 65 with Amazon Alexa.
This model has all the functionality of a great GPS unit and Amazon Alexa combined. You will be able to connect with your smartphone for hands-free calling, play music from Amazon and Pandora, create to-do lists, check your calendar, the news, the weather, and look for any traffic jams up ahead, as well as control smart home devices. 
Comfort and Entertainment
Sunglasses
Let's deal with the sun first. This really depends on your personal style but there are a few things to look for when it comes to sunglasses for road tips. 
The first feature I look for in driving sunglasses is clear lenses that have no distortion. The second is overall weight of the frame and feel. They need to be so comfortable that you will forget you have them on. 
The best driving sunglasses I have found is the Maui Jim Rimless line. You can wear these for hours without any discomfort to the nose and ears. 

They are very functional as well. They have polarized lenses that will prevent glare and harmful UV rays. 
Sunshades
Using a windshield sunshade does not just keep your car cool but also prevents electronics from being damaged. 
It's going to be hot summer so definitely plan to bring a sunshade with you. I prefer the 2 piece foldable that fit nicely behind or on the side of the passenger seat. 
The Autoamerics Windshield Sun Shade is a really good option and comes in 3 sizes for a clean fit on your vehicle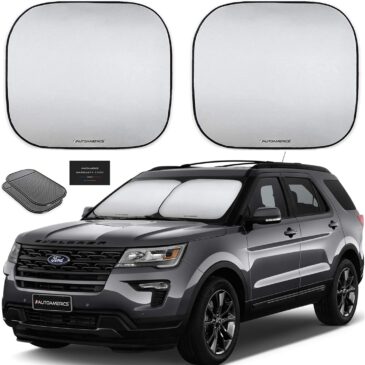 In addition to the windshield sunshade, grab some for the side windows. Keep these simple, where you can easily move or adjust them. 
For window shades go with the Enovoe Car Window Shade 4 Pack.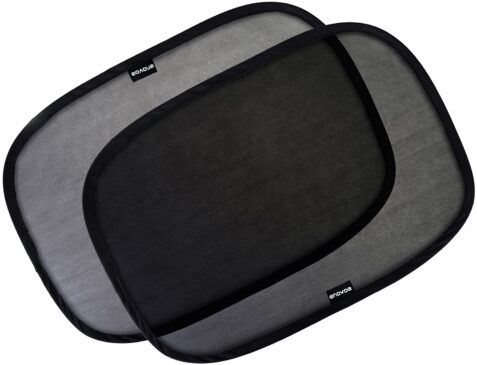 Keeping your car cool means keeping your family and friends enjoying the ride. It also means a little less work on the aircon, which may improve fuel economy over time.
Coolers
Now that we have the hotter topics covered, let's move on to coolers. 
It's possible to cross the United States surviving solely off fast food. With that being said, I would not suggest doing that. Bringing your own snacks and water will not only save you money but it's generally healthier, safer, and more fun. 
If you take very many road trips, at some point you will find yourself stranded. You will have a flat, get stuck in the mud, breakdown, run out of gas, or something along those lines. Having some food and water may be crucial to your safety in this situation. 
Bringing snacks and water also gives you the freedom to seek true adventure on the road. You will no longer be dictated by where the closest source of food is. This allows you to pull off the road and stop for lunch with any view you choose. 
OK, so that was my best cooler sales pitch. Did it work?
I recommend bringing a hard cooler for the car and a soft cooler for when you decide to get out. Neither has to break the bank.
For the hard cooler, I recommend the Coleman Xtreme Cooler, which keeps ice up to 5 days and has a convenient drain.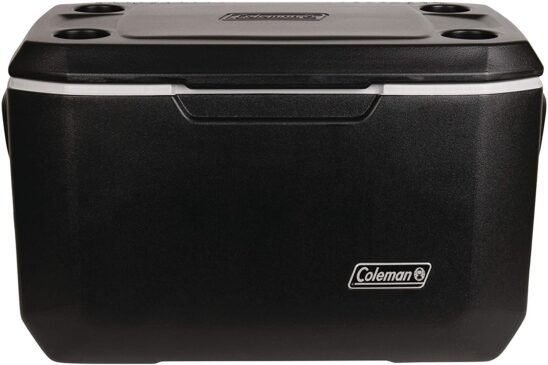 For the soft cooler, I prefer a backpack cooler like the Coleman Soft Backpack Cooler. I'm not a fan of shoulder strap coolers, especially because sometimes it's nice to hike up to a viewpoint for a beer or glass of wine at sunset. Never miss a good sunset!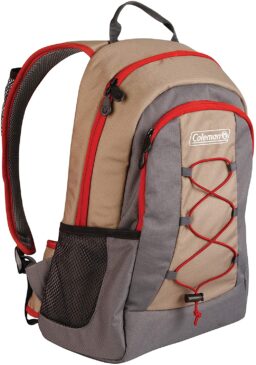 There are many options for your road trip cooler. You can spend as much or as little as you want. Coleman has never let me down.
Insulated Stainless Steel Bottle
An essential item on any road trip travel accessories list should be a high quality insulated stainless steel bottle. 
A great insulated stainless steel bottle will work for both cold and hot drinks, won't leak, have a mouth wide enough to fit ice cubes, and can adapt to almost any situation on your road trip. 
I recommend the Coleman FreeFlow AUTOSEAL insulated stainless steel bottle. It keeps drinks cold up to 58 hours or hot up to 20 hours, has a high-flow spout, and spout protection from dirt and germs. 
Portable Espresso and Coffee Maker
If you are a coffee lover, you can save yourself both time and money making your own on the road trip using the Nanopresso Portable Espresso Maker. If you want to make double expressos, you will also need the Barista Kit. 
I'm actually not a coffee drinker myself, but my wife doesn't function without it. As they say, happy wife happy life, right?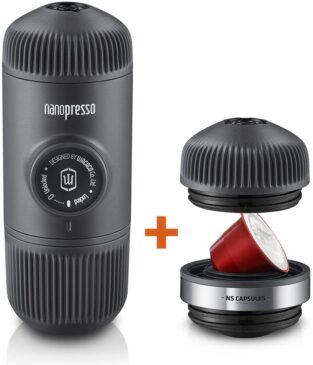 The reality of this is, making sure everyone else in the car is comfortable and entertained is very important to the overall experience you will have on your road trip. This travel accessory is a must-have for any coffee drinker. 
Travel Pillow (Blanket Optional)
If you are a passenger on the upcoming road trip, this travel pillow is the perfect accessory for you. 
Three features make a great travel pillow, the ability to compress down to a smaller size and, of course, actually being really, really comfy. 
The Therm-a-Rest Compressible Travel Pillow is the perfect option for a road trip. I prefer the large one!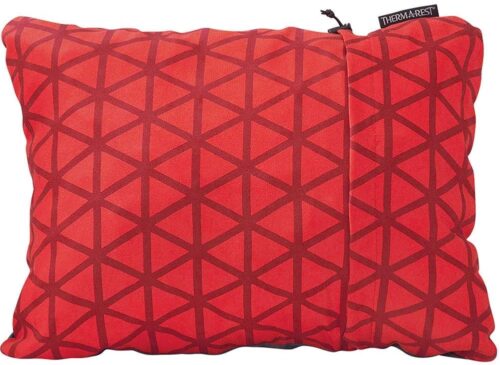 I know many of you may already have a favorite blanket at home but if you are looking for something compact and clean for the road trip then go for a portable fleece-like Cocoon CoolMax Blanket. 
Picnic Blanket
If you followed my lead, purchased coolers, and plan to bring snacks, make sure you pick up a picnic blanket to complete the ensemble. There will be plenty of opportunities for a picnic (outside of the car) along the way. 
A good picnic blanket will have a padded waterproof bottom that protects against dirt, mud, and sand. I really like the PicniKing Waterproof Picnic Blanket.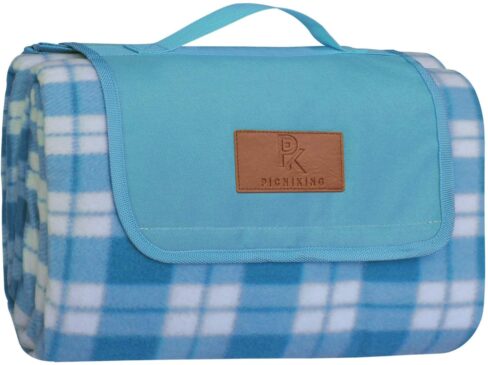 If you will be camping, it has the added use as an extra layer of protection on the floor surface of your tent.
Games
If you have teenage kids, it will be hard to get them to engage in anything but their smartphone. But, road trips are great for sparking conversations and creating memories. There is not a better way to do that than playing some road trip games. 
There are countless games to choose from out there. My personal favorite for road trips is Chat Pack: Fun Questions to Spark Conversations.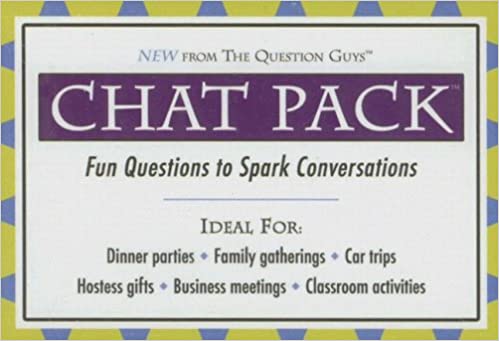 In addition to playing games in the car, make sure to get an active game for the campsite or while staying at the motel. This can be as simple as a frisbee or more elaborate like a portable cornhole toss game set. 
Books
I love to read (and write) and there is some really great road trip themed books.
Every bookworm has a different taste but if you are looking for something to get you into the mood for a road trip and give you some ideas, check out these three books. 
Organization, Packing, and Hygiene
Storage
So I'm kind of against just throwing everything in the back of the vehicle. Actually, I'm completely against that. 
Being able to quickly find what you need when you need it is crucial to improving your overall experience on the road trip. 
When you need water, flashlights, your camera, emergency equipment, a change of clothes, or even a snack, that should all be easily accessible at a moment's notice. 
I suggest grouping items on how they will be used and frequency of use. You can be creative and have labeled containers or bags, however, you want to do this. But this will keep you from worrying all the time about what has been left behind in the motel from the previous night.
For storing items you will be using frequently on the road, keep those in the vehicle. This is water, food, electronics, a change of clothes, basic hygiene items, the first-aid kit, hiking equipment, etc. 
For storing camping equipment and/or luggage, I suggest installing a roof rack and a low-drag cargo box. This gives you extra room in the vehicle, you won't need to compromise on equipment, and improves your overall road trip experience. 
My favorite cargo box is the Thule Motion XT Rooftop Cargo Carrier.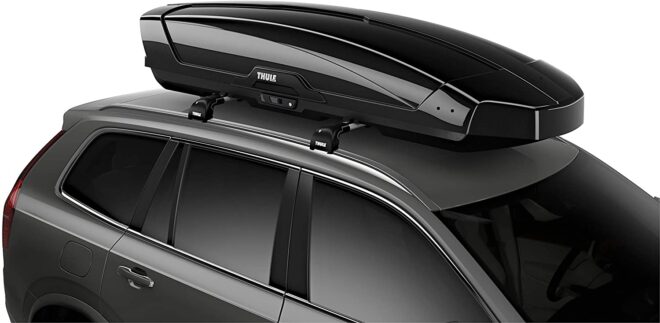 This model has a very clean design, provides an additional 22 cubic feet of storage, can be easily accessed from either side of the vehicle, and is very secure. 
Now, I know what most of you are probably asking yourself right now along with some minor thoughts of aggression directed towards me. Something along the lines of how do you install it and is my car even compatible. Am I right?
So the first thing you need to do is consult your car owner's manual to find out how much weight your roof can handle. This model weighs 55 lbs and has a load capacity of 165 lbs. Then check out the Fit my car guide on Thule.com. 
Duffels
As a perfect complement to your rooftop cargo carrier, you can keep everything organized with duffle bags. 
I'm very loyal to dependable brands with great customer service. When it comes to rooftop cargo, that is easily going to be Thule for me every time. 
When it comes to keeping your gear organized in the rooftop cargo carrier, consider picking up the Thule GoPack Duffle. You can pick up a pack of 4 for less than $200.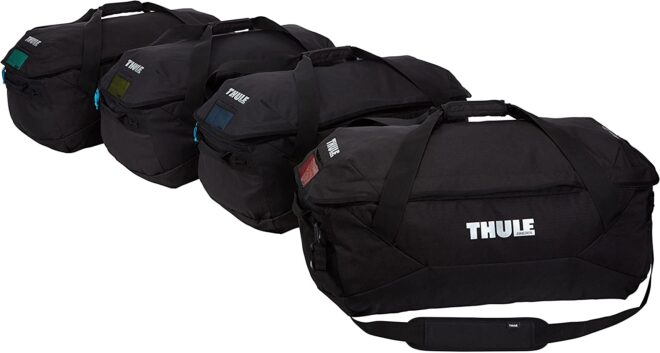 These duffles were designed for a perfect fit in the rooftop cargo carrier, they are durable, and can be easily color-coded. You will look like a pro.
Seat Back Organizer
Seatback organizers are a very functional road trip travel accessory. They add another layer of organization to the vehicle, keeping your space clean, and protect the seat back from wear.
My favorite seatback organizers are completely customizable with MOLLE pouches. If you have served in the military, you probably know exactly what I'm talking about. 
For those who aren't familiar with the concept, MOLLE pouches are just very functional attachments which you can secure with velcro straps or clips to other MOLLE compatible products.
They are actually quite fun to customize however you or your passengers would like to store their gear for the road. If you use other MOLLE compatible products, such as a tactical backpack for instance, you can simply remove the MOLLE pouch from the seat organizer and add it to your other product on the go. 
Start off with a clean slate like the OneTigris Car Seat Back Organizer and add and MOLLE pouches you like.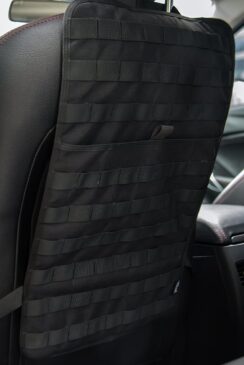 Once you have the seatback organizer, you can customize it however you like with MOLLE pouches. You can simply sear "molle pouch" on Amazon or Google. Click here to search for "molle pouch" on Amazon. 
Backpack
While we are on the subject of MOLLE pouches, let me show you the backpack that I use for my travel adventures. 
I use a Lowepro ProTactic Backpack, which is customizable with MOLLE pouches. This backpack is amazing. It protects and keeps all my gear organized. I always have my DSLR cameras and drones with me in this bag.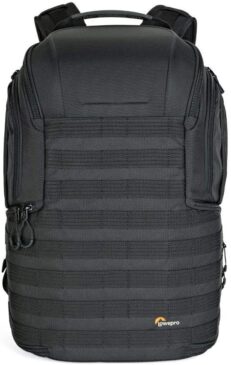 If you are carrying a MOLLE pouch with a first-aid kit on the seat, you can easily unclip it and attach it to this bag. The same goes for just about anything, your stainless steel water bottle, fire starter kit, tripod, sunscreen, you name it.  
I've traveled around the world with this backpack. It's one of the most functional travel accessories that I own.
Body Wipes
For me, maintaining good hygiene on the road is a priority. Nothing makes me feel less comfortable than getting back into the car covered in sweat and dirt. 
Staying fresh and clean will definitely enhance your overall travel experience. That is why I firmly believe body wipes are one of those must-have road trip travel accessories. 
Combat Wipes have my full endorsement as best in class. They have improved my quality of life in so many situations. They are biodegradable, so if you don't have the ability to trash dirty wipes it won't be the end of the world.
Suncreen
Most road trips will include elements of sun exposure, be that just an arm out the window or while hiking to a viewpoint, so I definitely suggest bringing sunscreen.  
A good sunscreen for an active road trip, where you will be hiking and swimming, will be oil-free and fast-absorbing. I recommend Neutrogena Beach Defense and Neutrogena Sport Face Oil-Free Lotion Sunscreen.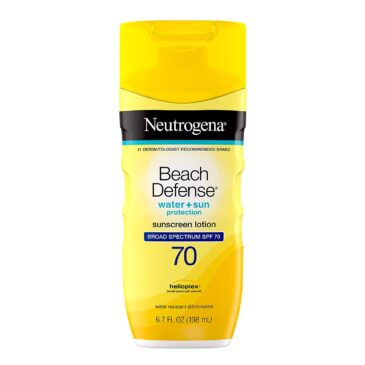 Neutrogena Sport Face Oil-Free Lotion Sunscreen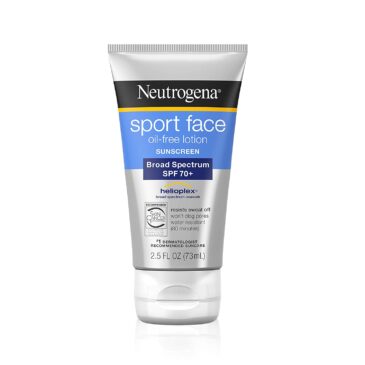 Avoiding a sunburn doesn't need to be difficult. I admittedly forget to reapply enough and as a result, I frequently end a road trip with one red arm and one normal arm. Don't be like me!
Insect Repellent
Mosquitoes and gnats will drive you crazy and distract you from the environment around you. If you are planning any outdoor activities, I highly suggest bringing some long-lasting bug repellent.
If you are looking for a quick solution to insect repellent, then I would suggest a spray-on like  OFF! Deep Woods Insect & Mosquito Repellent. 
With that being said, I don't think it works as well as insect repellent lotion such as Ultrathon Insect Repellent Lotion. So if you are serious about bug control, get this stuff.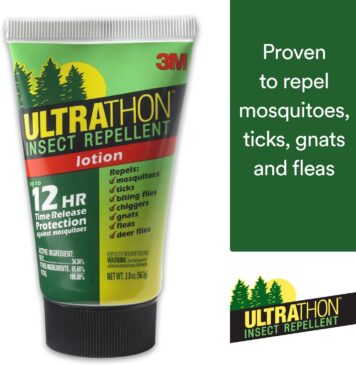 It's debatable if insect repellent is a hygiene product. And, I will argue that it most definitely is. It just makes you focus less on the little things (like mosquitos!) and more of the big picture (like the big beautiful outdoors).
Chapstick
Another great road trip travel accessory is chapstick. But, don't settle for the overpriced chapstick at the truck stop.
Stocking up on this item before hitting the open road will save you money and allow you to get chapstick better qualified for the activities you will be doing along the way. 
For chapstick, I recommend bringing Burt's Bees 100% Natural All-Weather Lip Balm. It also will help protect your lips from sun exposure (it's SPF15). 
Burt's Bees 100% Natural All-Weather Lip Balm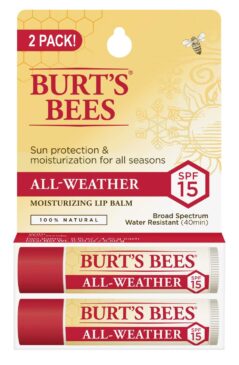 Stain Remover
Road trips are just not complete until ketchup hits the t-shirt. 
Accidents are bound to happen when you are spending multiple hours in the car on an American drive-thru fueled road trip. 
When the unavoidable happens, make sure you have some Tide To Go Instant Stain Remover. They can handle anything, wine, coffee, makeup, and the old fashioned American condiments.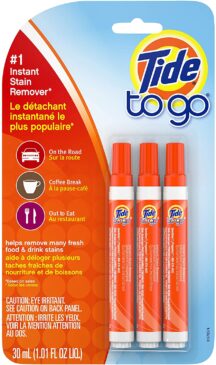 Car Vacuum 
Another great way to improve overall hygiene on a road trip is by keeping your environment clean. 
In addition to the remnants of any dropped food, you are going to be tracking in elements every day. The car will feel more inviting and comfortable if you keep it clean. And, it will smell better.
Bring a Portable Car Vacuum Cleaner from ThisWorx on your road trip. What I really like about this model is that it comes with a convenient case to store it in.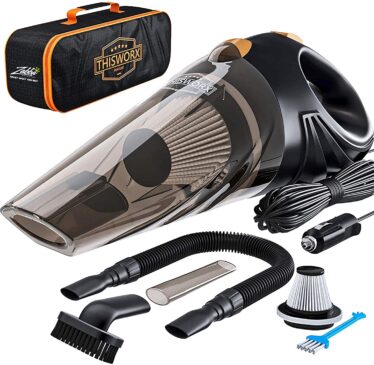 This car vacuum keeps your car fresh for the road and that is why this is one of the best road trip travel accessories. 
Safety and Driving Readiness
Survival and First Aid Kit
Accidents happen and it's important to be prepared when they do. That is why survival and first aid kits are essential road trip travel accessories. 
Hopefully, you will never have to use it. But, it is better to have and not need, then need it and not have it. 
Since you are kitted out with a MOLLE pouch seat organizer and backpack, I suggest getting the MOLLE compatible EVERLIT 250 Pieces Survival First Aid Kit. Keep it on your seat while on the road and simply unclip and attach to your backpack while out of the vehicle.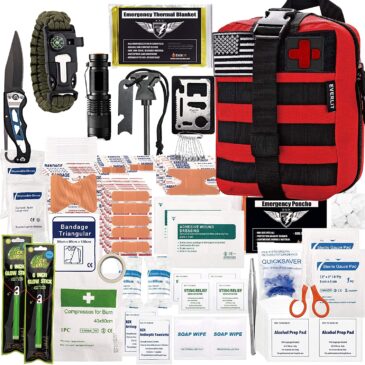 You can also get it in a red MOLLE pouch which may make it more identifiable in the event of a car accident. I also suggest picking up a few extra survival blankets and ponchos. 
Jumper Cables
The most glamorous of all road trip travel accessories is a trusty set of jumper cables. OK – maybe that was a little dramatic. 
In reality, jumper cables are another very important safety item for a road trip. There will be a demanding work assignment placed on your battery and you may find it needs some help at some point.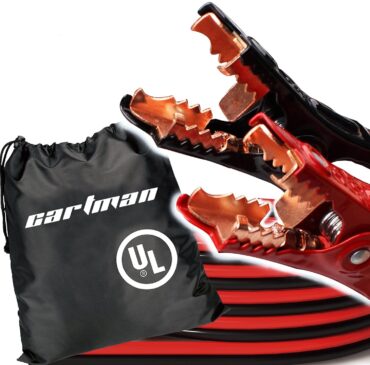 I always suggest bringing both, but you may also want to invest in the Clore Automotive Jump-N-Carry with Air Compressor. This has the power to jump-start your car completely independent of another vehicle and has the added feature of a portable air compressor.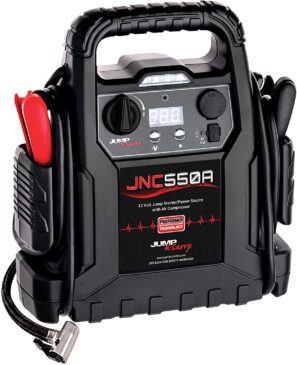 If you plan to venture far off the beaten path, getting a jump from another vehicle may not be an option for you. 
Duck Tape
There may come a time when you need to make a short-term roadside repair with duck tape. 
I was 6 hours into a 12-hour drive coming back from Colorado to Oklahoma when disaster struck. The temperature gauge on my Tahoe started skyrocketing and smoke was coming from the hood. 
After pulling over to find my radiator hose had sprung a leak, I realized that it was over 70 miles from the closest auto parts store. Panic! Right?
Actually, wrong. I pulled out my Duck Tape Max Strength, patched the radiator hose, and made it safely to the auto parts store for repair. Duct tape can pretty much be used as a temporary fix for any hose on your car (with the possible exception being the gas line).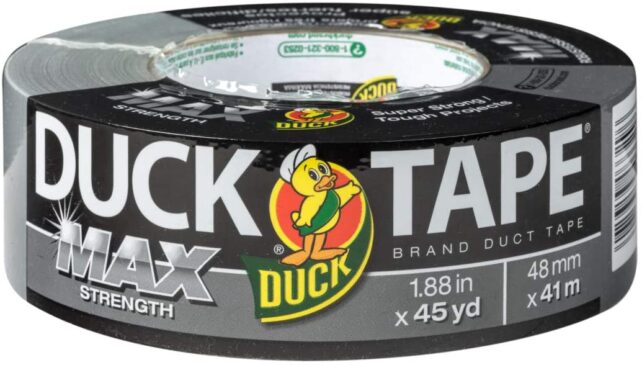 That, of course, is not all you can do with duck tape on the road. You can fix broken windows, doors, and lights. It can be used to temporarily fix body damage and reattach car mirrors. You can even tape up a flashlight while working on the vehicle or patch a hole in a tent. 
Multitool
No emergency kit is complete without a multitool. Multitools are small enough to carry in your backpack, pockets, or belt attachment, so this is a very useful tool to take with you everywhere. 
On a multitool, the pliers, knife, and bottle opener will be the most useful features. I carry the Skeletool CX Lightweight Multitool on road trips. I prefer this multi-tool because it's lightweight and has a built-in carabiner that I can easily clip to my backpack.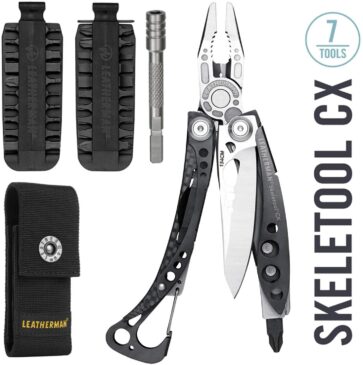 This is one of the most useful road trip travel accessories. After you get one, you will not be sure how you lived without it. 
Headlamp
There will be late nights at motels and campsites where you will be stuck setting up and unloading in the dark. The first thing you will reach for is your headlamp. 
My favorite headlamp is the PETZL Actik Core Headlamp because it's very powerful, equipped with a red lighting feature to save night vision, and waterproof. It's also rechargeable, which means you can expect the same power on each use.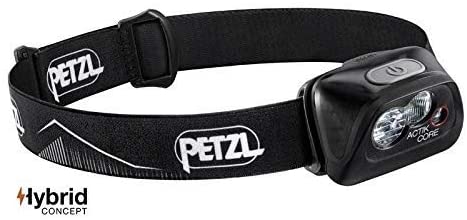 Flares
Bring some flares with you in case you get stranded on the side of the road. I don't want to scare you but 12% of roadway deaths are from people getting hit while they are on the side of the road.
Flares are highly visible in both daylight and at night. They alert other drivers of your status on the side of the road and can also serve as a signal in remote areas to vehicles or planes in the distance. 
Stick with traditional flares and avoid electronic signals, I recommend Orion Safety Flares.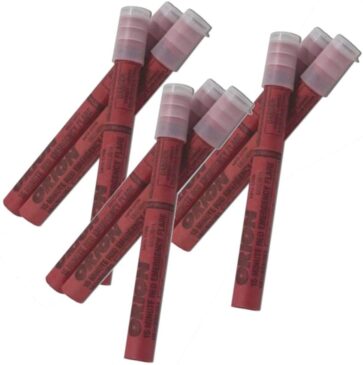 Spare Gas Can
When you are taking a road trip through a remote and unfamiliar region, it's easy to get caught without enough gasoline to make it back to civilization. Having a spare gas can will provide peace of mind. 
In the event of an emergency or natural disaster, it can also help give you an extra day or two with a vehicle to provide warmth or air conditioning.
Getting stuck in the desert, the mountains, or in the snow is a common scenario that I've lived through and was thankful I had some extra gas. 
It doesn't need to be much, 5 to 10 gallons in this situation goes a long way. I recommend the No-Spill 1450 5-Gallon Poly Gas Can.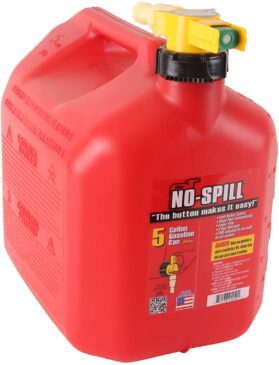 Road Atlas
As a precautionary backup to technology, make sure you bring a 2020 road atlas with you on the road trip. They are not just useful for finding your way on the road, but they can also provide a lot of other useful information and a fun way for everyone to follow along. 
The Rand McNally 2020 Large Scale Atlas has updated road maps of every U.S. state plus over 350 detailed city insets and national park maps. You will also find a helpful directory of road construction and conditions contact information.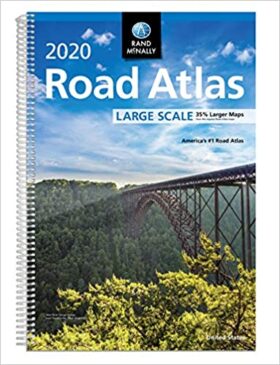 Preparing for a Road Trip
Now that you have your road trip travel accessories, you will want to perform a checkup on your vehicle before setting out. If you have any doubts about your vehicle, you should consult a mechanic. 
You will want to start your vehicle inspection looking at six key areas:
Engine Compartment

– Check the engine oil, transmission fluid, engine coolant, windshield wipers, washer fluid, and brake fluid. Alternatively, have this done by a professional.

Tires

– Examine the tread on your tires for uneven wear using a penny. If the top Lincoln's head (facing down) is visible, then the tire may need to be replaced. Check the tire pressure on all tires to make sure it complies with the PSI guidelines in your cars owner manual. 

Lights

– Make sure all bulbs are working, including headlights (high and low), brake lights, turning signals, parking lamps, reverse lights, and the license plate lights.

Noises and Smells –

After your car has been running for a while, check under the hood for any noises and smells. If you hear any clunking, clicking, loud humming, or grinding, have your car examined by a mechanic. If you smell any sulfur, sweet, burning, or musty smells, have your car examined by a mechanic. 

Feel

– The following situations would warrant a visit to the mechanic:

A soft or spongy feeling with the brake.

Vibrations while driving down the road or coming to a stop. 
Now, before you hit the open road, make sure you have done the following:
Updated the smartphone apps and GPS system you plan to use. 

Signing up for a roadside assistance program, such as

AAA

. 

Researching the adventure that awaits you on your road trip.
Conclusion
Thank you for reading! I truly enjoy sharing travel guides with my readers. In this guide, I shared with you the best road trip travel accessories for 2020. 
If you have any advice or feel that I missed something, please share it with me in the comments below. Feel free to share photos or stories with me on my Facebook page where you can message me directly.
Don't forget to subscribe to my email list for notifications on future travel posts.